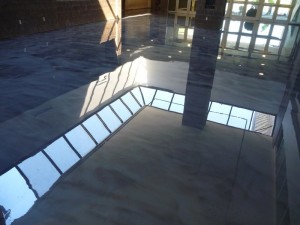 REFLECTOR Enhancer™, The Benchmark In Metallic Epoxy Floors
Elite Crete Systems have always been synonymous with quality. When it comes to seamless metallic epoxy flooring, we stand for innovation, quality, affordability and individuality.
REFLECTOR Enhancer™ metallic epoxy flooring options are numerous. Options in colours and colour combination are almost limitless. Using a cheap, inferior resin will only result in a dimpled or hazed and blushed floor without a high quality finish.
Our product is built in multiple levels. Depending on the moisture reading from the concrete substrate, the first step after floor preparation is E100-VB5™ epoxy vapour barrier (this step is optional and only necessary if a high reading is registered on the moisture meter or calcium chloride test). If an epoxy vapour barrier is not required then the first coating is a solid coloured epoxy coat such as E100-PT4™ Pigmented Epoxy. This primer coat will take care of concrete off gassing and will provide a smooth and neutrally coloured base coat. After a solid pigmented base coat has been installed, REFLECTOR Enhancer™ is added to either E100-PT1™ standard and fast set epoxy or, to E100-UV1™ crystal clear epoxy. Depending on the desired finish, you will either have one application here or if you require multiple colour combinations, additional coats and highlights will be applied. After the REFLECTOR Enhancer™ step has been completed, an optional but highly recommended protective top coat can be applied.
Your options for a protective urethane include: AUS-V™ Aliphatic Urethane Sealer (a non yellowing, extremely low VOC protective top coating) or AUS-HD™ Heavy Duty Aliphatic Urethane Sealer. Either of these systems are available in a gloss or matte finish. Also, slip rating can be adjusted with the addition of aluminium oxide on the protective top coat.
One might think these floors are expensive, but in fact they are often a significantly more affordable alternative than ceramic tiles,marble, granite, etc. Considering that these floors are seamless, they are also extremely low maintenance and hygienic.
You won't have to be an experiment with our proven systems that have been successfully installed on thousands of floors worldwide. If you would like to meet with a trained and approved Elite Crete Systems applicator, please contact an Elite Crete Australia sales representative.