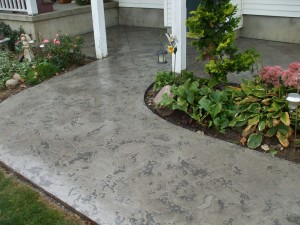 Tuscan trowel, also known as a slate trowel down or skip trowel are a popular concrete overlay and concrete restoration technique that are used with Elite Crete System's, THIN-FINISH™ and MICRO-FINISH overlays.
These applications can give the appearance of weathered stone, slate or ceramic tile. Due to the slip resistance associated with these textured  finishes they are commonly used in wet areas, such as pool decks, driveways, walkways or any outdoor surface that is exposed to the elements. The Tuscan trowel finish is also a popular interior and exterior flooring system. Designs can easily be created with fibre tape or stencils, simulating large or small tiles, stone, marble or any unique and authentic image or pattern at a fraction of the cost.
Trowel down applications are a great concrete restoration application. Repairing and hiding cracked, pitted, stained, delaminated and weathered concrete surfaces is one of the most common uses of this technique. Rather then pouring a new slab, a THIN-FINISH™ trowel down may be the simple solution for restoring your old or damaged concrete slab and acquire a textured concrete brand new look.
Building layers and creating depth with multiple colours is easily accomplished with integral colouring and highlight staining, giving these concrete textures unlimited possibilities.
Elite Crete Australia
34 Moreland St,
Footscray VIC 3011
www.EliteCreteAustralia.com.au