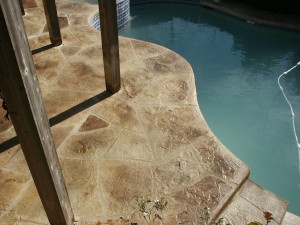 Adding a decorative concrete pool deck can change the entire environment of your backyard or swimming pool area. Elite Crete System's concrete overlays not only transform your concrete pool deck, they also protect your existing concrete (regardless of condition) from the harsh chemicals that are used in swimming pool maintenance and help increase slip resistance as well as being resistant to damaging UV rays.
You are no longer limited to exposed aggregate or the typical spray on concrete finishes that offer limited design possibilities and colours. Elite Crete Australia has the most versatile selection of concrete overlay systems available. These decorative concrete systems can be completely customized and have proven themselves on residential and hotel pool decks throughout the world.
Unlike acrylic and PVA based concrete overlays, Elite Crete System's THIN-FINISH™ and TEXTURE-PAVE™ can allow hydrostatic pressure and will not re-emulsify when continually being exposed to water. Our systems do not require a moisture barrier, we can make claim to offering the only concrete overlay system that both chemically and mechanically adheres to the concrete substrate. In layman's terms, this means that you do not need to worry about your decorative concrete pool deck delaminating or re-emulsifying in a few years down the line.
Given the wet environment, having a slip resistant pool deck is mandatory. If not for the beauty and aesthetic value that these finishes add, having an anti-slip surface should be enough justification to have an Elite Crete Systems overlay installed on your pool deck.
Whether you are after a simple splatter texture finish or an elaborate stamped concrete design, we can have an authorized Elite Crete Systems installer work with you to help you make your pool environment safe, beautiful and long lasting.
Elite Crete Australia
34 Moreland St,
Footscray VIC 3011
www.EliteCreteAustralia.com.au
The Industry Leading Manufacturer of Products and Systems for; Decorative Concrete Overlays, Stamped Concrete, Concrete Colouring, Concrete Repair, Industrial Epoxy Systems and Flooring Solutions.