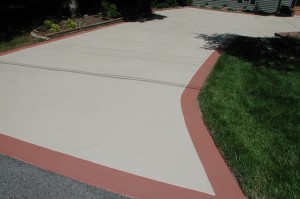 Applying Elite Crete System's THIN-FINISH™ concrete repair product as a broom finish is perhaps the most economical way to restore concrete, level and hide deteriorated or poorly finished concrete slabs. This simple, yet versatile technique literally uses a broom to create wavy textures, giving the surface character and slip resistance.
Choosing a broom which has peculiar bristles leaves behind unique patterns that can simulate wood grains, or leave texture that is favourable to unique colouring, decorative concrete designs and variegation.
Although a simple technique, many variations are possible with this decorative concrete finish. Checker board patterns can be created by changing directions with the broom and can then be measured off and coloured alternately. Circular motions can also leave behind an artistic impression all while creating a visually pleasing, economical and slip resistant surface.
Broom finishes can be integrally coloured with PORTION CONTROL COLORANT™ or SYNTHETIC PRIMARY PIGMENT™. Colouring with ULTRA-STONE™ Antiquing Stain leaves behind a permanent colour that will not fade under UV exposure and adds character to the textured finish. Colouring with CHEM-STONE™ Reactive Acid Stain can give the appearance of an uneven, semiopaque semblance that increases and adds great character to a broom finish.
Elite Crete Australia
34 Moreland St,
Footscray VIC 3011
Tel.# 1300 886 945
www.EliteCreteAustralia.com.au