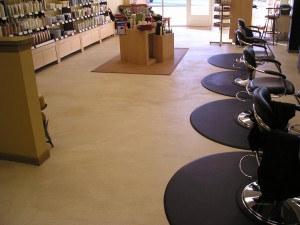 E100-PT3™ Clear Waterborne Epoxy was engineered for sealing and coating Elite Crete Systems concrete overlays and concrete micro toppings, as well as concrete grind and seal applications, stained concrete floors and a multitude of other internal concrete surfaces.
Elite Crete Systems E100-PT3™ is a clear waterborne epoxy with virtually no odour or VOC's (Volatile Organic Compounds) that is semi self levelling, non-shrinking, thin build epoxy coating formula.
With both components A and B mixed together, E100-PT3™ has a relatively low viscosity for an epoxy at just 400 cps, which allows for an extended coverage rate in comparison to many other waterborne epoxies and high solid concrete coatings. The recommended film thickness of E100-PT3™ is between 125 to 180 microns which gives a high coverage rate of approximately 6 to 7.5 square meters per litre.
Curing rate of E100-PT3™ is reasonably fast and capable of being opened to light foot traffic within 8-9 hours, tack free in 5-6 hours and opened to regular traffic in 24 hours time under atmospheric conditions of 24° C with a relative humidity of 50%.
Other notable features of E100-PT3™ are;
Air releasing capabilities during curing, allowing for a smoother than typical epoxy base coat or prime coat.
Self priming epoxy.
Thin build protective coating for internal polymer modified concrete, concrete flooring, seamless flooring, interior concrete surfaces, etc.
Protective coating for both automotive and foot traffic. Excellent strength and impact resistant floor coating. Excellent wear and scratch resistance.
A non blushing epoxy film.
Easy application and conveniently packaged for exact mixing.
Suitable as a thin build protective concrete coating where a higher film surface is not desired or necessary.
A durable and safe replacement for flammable high level solvent coatings that are hazardous for internal applications.
High quality, yet economical protective floor coating.
For more information on E100-PT3™ Clear Waterborne Epoxy or for any internal concrete floor specification assistance, please contact an Elite Crete Systems technical support representative.
Elite Crete Systems products are available to trained and professional applicators only. If you are interested in becoming an approved applicator of the most durable and cutting edge products in the market place, please express your interest with an Elite Crete Systems sales or technical support representative. Alternatively, if you are a home or business owner and wish to benefit from these highly durable and aesthetically interesting flooring systems, please contact us to arrange for an approved applicator to visit you on site for a consultation and quotation.
Elite Crete Australia
34 Moreland St,
Footscray VIC 3011
www.EliteCreteAustralia.com.au
The Industry Leading Manufacturer of Products and Systems for; Decorative Concrete Overlays, Stamped Concrete, Concrete Colouring, Concrete Repair, Industrial Epoxy Systems and Flooring Solutions.