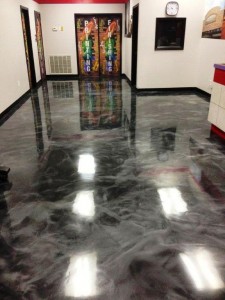 E100-UV1™ Clear Epoxy Resin from Elite Crete Systems is a perfectly clear, two component, higher viscosity, self levelling, solvent less, 100% true solids, high gloss, non shrinking epoxy floor coating comprised of aliphatic and cycloaliphatic amines.
Elite Crete Systems E100-UV1™ has been engineered and formulated with the highest quality available. Unlike many other manufactures that promote and advertise 100% solid epoxy floor coatings, this product does not have any solids filler in the formulation, making it one of the few truly solid 100% resin epoxies available.
Like E100-PT1™, E100-UV1™ also has excellent air releasing capabilities and is also a 100% self priming and self levelling epoxy floor coating with virtually no odour and no VOC's (Volatile Organic Compounds).
E100-UV1™ epoxy resin can be used to protect interior concrete micro toppings, polymer modified overlays, concrete flooring, concrete floors that have been coloured and stained with CHEM-STONE™ Acid Stain, HYDRA-STONE™ Concrete Dye, ULTRA-STONE™ Waterborne Stain, as a top coat to E100-PT4™ coloured epoxy as well as a carrier for REFLECTOR Enhancer™ flooring systems and numerous other concrete flooring applications. E100-UV1™ can also be used as a slurry or as a binder for an epoxy mortar system.
Being a crystal clear epoxy resin and also being slightly higher in viscosity in comparison to E100-PT1™ makes E100-UV1™ the preferred epoxy resin of choice when installing REFLECTOR ENHANCER™ epoxy floors. With both component A and component B mixed thoroughly together the viscosity of E100-UV1™ is 600 cps.
The coverage rate for E100-UV1™ epoxy resin is conditional on the profile and porosity of the substrate, method of application and the selected film thickness of the coating. Most typically the coverage rate of E100-UV1™ is from 2.4 to 3 square meters per litre. When used as the resin of choice for REFLECTOR ENHANCER™ epoxy floors, E100-UV1™ has a typical coverage rate of 1.4 to 2 square meters per litre. It is possible to apply and build E100-UV1™ at thicker applications than this and it is not uncommon to use E100-UV1™ in a single coat well above 1000 microns.
The curing schedule of E100-UV1™ in atmospheric conditions of 24° with a relative humidity of 50% is:
Tack free in 5 hours time
Light foot traffic in 8 hours time
Heavy traffic in 12 hours time
With a 7 day ambient cure (24° with a relative humidity of 50%), E100-UV1™ epoxy resin has a compressive strength of 98 MPa, tensile strength of 48 MPa, flexural strength of 55 MPa and a Shore D hardness of 87.
Optional but highly recommend protective top coats for E100-UV1™ are AUS-V™ Aliphatic Urethane Sealer and AUS-HD™ Heavy Duty Single Component Urethane which both increase scratch and abrasion resistance.
For assistance in technical specification and product selection please contact an Elite Crete Australia technical support or sales representative.
Elite Crete Australia
34 Moreland St,
Footscray VIC 3011
www.EliteCreteAustralia.com.au
The Industry Leading Manufacturer of Products and Systems for; Decorative Concrete Overlays, Stamped Concrete, Concrete Colouring, Concrete Repair, Industrial Epoxy Systems and Flooring Solutions.