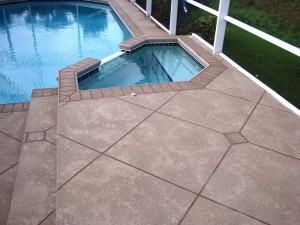 Splatter textures, also referred to as spray on concrete or spraypave are a textured concrete restoration that can improve the aesthetics of virtually any concrete slab or surface. Spray on concrete is not limited to concrete flat work, it is also implemented for vertical decorative concrete surfaces for a coloured stucco appearance.
A hopper gun that is connected to an air compressor is used to produce the rounded, bubble like texture. This texture adds great slip resistance to the surface, making a spraypave application ideal for concrete driveways, pool decks and outdoor living spaces.
Unlike acrylic based systems, THIN-FINISH™ can be "knocked down" to further improve the appearance or design and also to remove any sharp edges from the surface. Once cured, these finishes will last the life time of the substrate.
Although the spray on concrete look is somewhat outdated, it is one of the most simple applications to learn and is also an economical solution to plain grey concrete slabs and surfaces.
Concrete stencils and design tape are often used to create stone and tile patterns. These systems can be integrally coloured with PORTION CONTROL COLORANT™, SYNTHETIC PRIMARY PIGMENT™ and then further highlighted and accented with ULTRA-STONE™ Antiquing Stain.
Elite Crete Australia
34 Moreland St,
Footscray VIC 3011
Tel.# 1300 886 945
www.EliteCreteAustralia.com.au