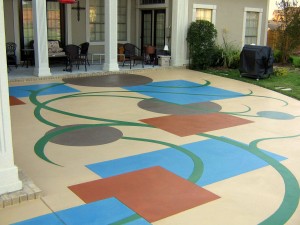 The range of finishes for decorative concrete is often mistaken to be limited. This could not be any further from the truth. The selection of textures, colours and material is vast, giving an almost endless amount of possibilities. Gone are the days of simple spray on paving concrete finishes with unauthentic appearing stencils and tape designs.
Elite Crete Australia offers the most durable and versatile decorative concrete systems available. Elite Crete Systems have validated the previous statement on millions of square meters world wide. Our proven proprietary formula, if installed correctly, will not delaminate or re-emulsify like an acrylic or PVA based system ultimately will.
Your concrete slab is the foundation to your outdoor living area, choosing a design that suits your environment can be overwhelming with the amount of options that we have on offer. Stamped, stained, coloured, textured, engraved, you name it, we have a system for it.
An important aspect of walkways, patios and any outdoor living area for that matter is maintenance. Having a low maintenance outdoor flooring solution should be high on your list, who wants to deal with ever present weeds that are growing in between paving stones or shifting and uneven walkways that are a trip hazard. A solid decorative concrete flooring system will eliminate those issues and provide years of maintenance free use.
Contact Elite Crete Australia and we will put you in touch with a trained and authorized Elite Crete Systems installer in your area for an obligation free quote.
Elite Crete Australia
34 Moreland St,
Footscray VIC 3011
www.EliteCreteAustralia.com.au