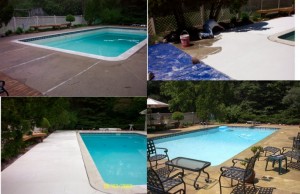 Elite Crete System's CPR 1000™, THIN-FINISH™ and TEXTURE-PAVE™ hybrid concrete restoration systems can be used for repairing spalling, pitted, deteriorated, stained, ghastly or poorly finished concrete that may otherwise need to be torn out and replaced.
Most common concrete repair or concrete restoration applications require .8mm to 6.35mm thick concrete overlays, however thicker applications are also available. The end result is a concrete surface that has the appearance of a freshly poured concrete slab, however the performance characteristics of the surface are heightened and improve resistance to chemical exposure, ultra violet degradation, water resistance, petrochemical resilience and more. Due to the low cost of these systems, they have become a common and viable concrete restoration and concrete repair method.
Applications such as splatter textures, broom finishes, skip trowel and THIN-STAMPED™ concrete overlays are a cost saving measure that significantly improves the aesthetics and performance of the substrate for the home or business owner.
Elite Crete Australia
34 Moreland St,
Footscray VIC 3011
www.EliteCreteAustralia.com.au