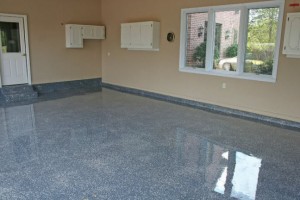 Durable, Cost Effective & Quick Return to Service
Elite Crete Australia supplies a wide array of coloured flake also known as chip floors or fleck floors. Our vinyl flakes are made from colourfast, UV stable pigments. For a fraction of the cost you can have the look of a terrazzo floor.
A Flake floor provides a durable, slip resistant, cost effective and sanitary floor with quick return to service times for the most demanding applications.
Numerous options are available for a flake floor and are contingent on the budget, current state of the substrate and the specific needs of the application; i.e stain resistance, abrasion resistance, chemical containment, slip resistance or all of the above.
Our flakes are sold in 3 different sizes. All flakes are sold in 5kg packages. Single, multi coloured flake as well as glow in the dark and mica chips are available upon special request.
An alternative to flake flooring that we carry, are our decorative quartz flooring systems which appear as multi coloured, quartz aggregate that are ideal for areas that focus attention to aesthetics. The coloured quartz granules can be mixed in a seemingly endless assortment of coloured combinations. Seamless quartz flooring systems are ideal for wet surface areas because of their increase in slip resistance.
Decorative coloured flake can be used with any of Elite Crete Systems 100% solid epoxy or polyaspartic aliphatic polyurea. With the use of E100-PT4™ Pigmented Epoxy, a light broadcast of flake can create a visually spectacular floor with an economical budget in mind. Top coating these flake floor systems with SPARTIC-ALL™ RM brings about the most chemically resilient flooring solutions available today. Gloss, semi-gloss and matte finishes are available with these concrete products.
Flake floors are ideal in industrial warehouses, airplane hanger floors, garage floors, chemical containment areas, sporting venues and clubhouses, schools, medical clinics and food service areas as well as decorative residential flooring applications.
Elite Crete Australia
34 Moreland St,
Footscray VIC 3011
www.EliteCreteAustralia.com.au