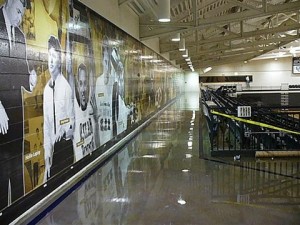 Are You Really Getting The Concrete Floor You're Paying For?
Not all concrete floors are ideal for polishing, in fact a very high percentage of existing concrete surfaces will not produce the strength and high sheen exposed aggregate finish that the home or business owner envisioned or expected. The reality is most home owners see a floor with a high gloss sealer on a ground concrete substrate and assume that this is polished concrete, however this is not the case and to those in the industry or to those that are better informed these applications are known as a grind and seal.
Polished concrete is not sealed, when these floors are brought up to the higher grit levels and have been densified (polished concrete without the densification step will be much more susceptible to staining, dusting and abrasion) they will provide a high gloss finish that is relatively stain resistant for a surface without any form of sealer (polished concrete floors are not stain proof as so many people are led to believe).
Grind and seal are exactly as the name implies; the substrate is ground back (usually to the 200 to 400 grit level) and then coated with a topical concrete coating. These coatings or sealers are more commonly epoxy or polyurethane.
Some of the benefits of a grind and seal over polished concrete are:
Much less labour intensive
Higher abrasion resistance (this is dependent on the sealer in use) • More cost effective (often a third of the price )
Low maintenance
A completely non porous surface (will not harbour bacteria)
If you are in the market for a polished concrete floor then you should be aware of these different applications and systems. Quizzing your chosen contractor/installer on their methods and process is important. Knowing what products they will use in the case of a grind and seal is vital. Not all sealers are created equally and the lower quality sealers will inevitably blush and yellow or even peel and flake over time.
Far too often the expectations of polished concrete floors are not met or quickly deteriorate over a short period of time. Selling polished flooring system and delivering a grind and seal is a common occurrence. Selling a polished concrete floor and not offering the advantage of the densification process while still charging top dollar is also a common occurrence.
Knowing a few of the techniques and the differences in these systems which have a similar appearance to the untrained eye is important to both the owner of these floors and also to concrete flooring industry and its reputation.
Elite Crete Australia
34 Moreland St,
Footscray VIC 3011
Tel.# 1300 886 945
www.EliteCreteAustralia.com.au