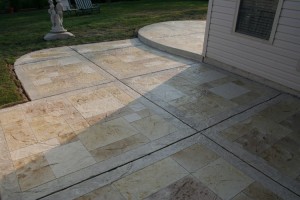 Concentrated Waterborne Concrete Stain
Elite Crete Systems ULTRA-STONE™ is a concentrated waterborne concrete stain that was designed to be used in conjunction with PORTION CONTROL COLORANT™ (PCC) and SYNTHETIC PRIMARY PIGMENT™ (SYPP).
ULTRA-STONE™ Antique Stain is a non corrosive, non hazardous, translucent concrete stain that was developed to be used for colouring, highlighting and accenting polymer modified concrete overlay systems such as; THIN-FINISH™ and TEXTURE-PAVE™.
ULTRA-STONE™ comes as a highly concentrated clear that was engineered and intended to be diluted with water and custom coloured with PCC or SYPP on site prior to use. One of the benefits of packaging ULTRA-STONE™ as a concentrate is the ability to dilute and customize colours and ratios, allowing the end user to manipulate a wide variety of colouring techniques. ULTRA-STONE™ can be used full strength for solid colour coats, however typical dilutions of ULTRA STONE™ are:
1:1 (One part water to one part ULTRA-STONE™) – Used as a colour coat.
2:1 Water to stain can be used as a antique coat.
3:1 Water to stain can be used as a highlighting coat.
Application of ULTRA-STONE™ can be achieved with a pump up type sprayer, foam brush, roller, sponge, brush, etc. Coverage rate of ULTRA-STONE™ after dilution with water is typically from 2 to 4 square meters per litre.
Unlike CHEM-STONE™ Reactive Stain, ULTRA-STONE™ Antiquing Stain is not an acid stain or chemical stain but rather a waterborne concrete stain. Waterborne concrete stains do not exhibit the same longevity when used directly on concrete when compared with waterborne stains that have been used in union with a polymer modified concrete overlay. Therefore it is recommend that ULTRA-STONE™ be used with either THIN-FINISH™ or TEXTURE-PAVE™ to provide a finished concrete surface that will not peel, flake and fade.
ULTRA-STONE™ is used for both interior and exterior polymer modified concrete surfaces. It is recommended that ULTRA-STONE™ be sealed with a breathable sealer such as CSS Emulsion™ or WCS Emulsion™ on exterior applications. For interior applications, ULTRA- STONE™ can be sealed with a number of Elite Crete Systems concrete sealers; E100- PT1™, E100-PT3™, E100-UV1™, AUS-HD™, AUS-V™, AUS-50™, SPARTIC-ALL™ RM, SPARTIC-ALL™ SL.
Please contact an Elite Crete Australia technical representative if you require any assistance in choosing the correct sealer for your particular project or for any other enquires regarding technical assistance and product specification.
Please take note that all of Elite Crete Systems products are available to certified and professional applicators only. If you would like to become an approved applicator of the most advanced and durable decorative concrete and industrial flooring products or are interested in benefitting from these products at your home or place of business, contact an Elite Crete Australia sales representative.
Elite Crete Australia
34 Moreland St,
Footscray VIC 3011
www.EliteCreteAustralia.com.au
The Industry Leading Manufacturer of Products and Systems for; Decorative Concrete Overlays, Stamped Concrete, Concrete Colouring, Concrete Repair, Industrial Epoxy Systems and Flooring Solutions.