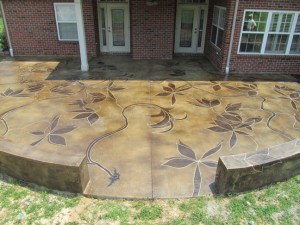 Translucent Concrete Staining Products
An acid stain is solution used to stain concrete and create decorative concrete finishes that transform plain grey concrete into a multitude of variegated, mottled, translucent and authentic appearing concrete designs and finishes.
The concrete mix design and chemical properties of the concrete slab makes each and every application unique, be it a textured floor or a previously coloured concrete slab. This is where the true beauty of concrete staining lies.
Acid stains are not a paint coating, or film forming agent but rather are a penetrating, translucent colouring medium used to stain concrete with an effect that resembles that of natural materials. Unlike acrylic concrete stains, an acid stain will not quickly fade, flake, peel or delaminate. The chemical reaction is created from a combination of acidic solutions and metallic salts that when applied to the concrete surface will react with the free lime content of the concrete slab and will leave a permanent and unique surface that can vibrantly colour and transform concrete bring its own exclusive appeal.
There are numerous design techniques and effects that are possible with acid stains. To make for a more controlled application, Elite Crete Australia recommends using one of their concrete overlay systems; THIN-FINISH™, TEXTURE-PAVE™ or MICRO-FINISH™, all of which can be integrally coloured and will produce a broader spectrum of colours, effects and patterns. Applying multiple coloured stains on textured and stamped concrete brings to realization the endless colouring possibilities. Acid stains do not have to be used as a stand-alone concrete colouring product, Elite Crete Systems concrete dyes can be used to go along with it to make matching and blending designer floors easier than ever before.
Bare in mind that you cannot always stain concrete. Some surface contaminates will shield the surface from accepting the staining process. Also, concrete surfaces that have been over exposed to hostile climate and traffic abuse will not produce the full effects of an acid stain and are recommended to be repaired and coated with an Elite Crete Systems polymer modified cementations concrete overlays when and where possible.
CHEM-STONE™ Reactive Stain is Elite Crete Systems penetrating, concrete stain. Unlike many manufactures, Elite Crete Australia does not sell a watered down acid stain but rather a concentrated stain that allows the end user a wider colour palette that is also cost effective.
The following colours are available from Elite Crete Australia:
Antique Black, Antique Blue, Antique Brown, Antique Gold, Antique Green, Antique Red, Antique Tan and Antique Umber.
Elite Crete Australia
34 Moreland St,
Footscray VIC 3011
www.EliteCreteAustralia.com.au