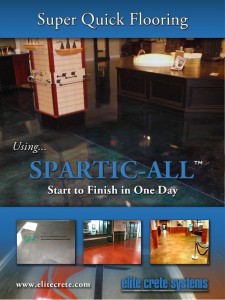 Elite Crete Systems SPARTIC-ALL™ RM and SPARTIC-ALL™ SL are formulated from the very fast curing polyaspartic ester technology. These fast cure coatings are a two component, non shrinking, semi self levelling, low odour, very high solid content, water clear protective floor sealer with industrial level durability and UV resistance.
SPARTIC-ALL™ is an ideal protective coating where return to service time is imperative. At 24° celsius with a relative humidity of 50%, SPARTIC-ALL™ polyaspartic coatings will have a surface dry time of 2.5 to 3.5 hours, will hard dry in 4 to 5 hours and will be mar free in 6 to 9 hours time. Because of these fast curing rates, polyaspartic formulations are often used in preference to their epoxy counterparts when time is of the essence.
The Coverage rate for SPARTIC-ALL™ RM and SL is typically from 4 square meters per litre to 6 square meters per litre, dependant on substrate porosity, texture, application technique and method. Commonly a single coat is used, however multiple coats can be used and should be considered under high demand conditions.
Although SPARTIC-ALL™ is not VOC (Volatile Organic Compound) free it has relatively low VOC emissions in comparison to the majority of protective sealers available with just 205 grams of VOC's per litre.
Due to the nature of polyaspartic coatings, it can generally be said that polyaspartics demonstrate inferior self levelling properties in comparison to that of Elite Crete Systems 100% solids epoxies. In saying that, SPARTIC-ALL™ SL does have improved self levelling qualities over that of SPARTIC-ALL™ RM.
SPARTIC-ALL™ is frequently used for quartz flooring and flake flooring applications as well as industrial coatings for schools, supermarkets, hospitals, prisons, warehouses, storage facilities and in general on any internal concrete floors in a high traffic, high demand environment. SPARTIC-ALL™ can also be used over internal polymer modified concrete overlay systems, such as THIN-FINISH™ and TEXTURE-PAVE™. Chemical and stain resistance are high and often make SPARTIC-ALL™ a candidate coating for medical centres, veterinary clinics, food and chemical processing plants.
Notable features of SPARTIC-ALL™ include:
Extremely fast return to service time.
Excellent durability and protection to UV rays.
High gloss finish.
Matte finish with the addition of aluminium oxide.
Excellent strength and impact resistance.
Can be used as a mortar system, broadcast system or neat.
High chemical and stain resistance.
Can be used as a carrier of the ever popular REFLECTOR Enhancer™.
Low odour and low VOC content at just 205 grams per litre.
For any more information or assistance in the specification of products for concrete flooring and industrial grade floor coatings, please contact an Elite Crete Australia technical support representative.
Please note that Elite Crete Systems products are available only to certified and professional applicators. If you are interested in utilizing these products in your existing business or project or would like to learn more about the industrial flooring and decorative concrete industries, contact an Elite Crete Australia sales representative.
Elite Crete Australia
34 Moreland St,
Footscray VIC 3011
www.EliteCreteAustralia.com.au
The Industry Leading Manufacturer of Products and Systems for; Decorative Concrete Overlays, Stamped Concrete, Concrete Colouring, Concrete Repair, Industrial Epoxy Systems and Flooring Solutions.