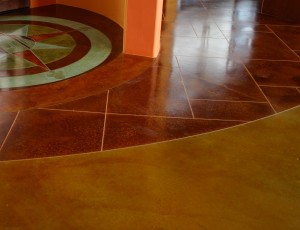 No longer do we have to accept a plain grey concrete floor. With the use of Elite Crete Systems concrete colour dyes and stains, achieving any possible colour combination throughout the rainbow is now a possibility. Whether you are colouring a polished concrete floor or a stamped concrete patio, Elite Crete Australia has the most versatile selection of concrete dyes and acid stains available.
Unfortunately there is no silver bullet when it comes to colouring concrete, meaning that one concrete colour dye or stain does not suit every application. Elite Crete Australia offers three distinctively different concrete dyes and stains for your concrete floor; HYDRA-STONE™ Dye Stain, ULTRA-STONE™ Antiquing Stain and CHEM-STONE™ Reactive Stain for your concrete floor.
HYDRA-STONE™ Dye Stain utilizes a proprietary formula to deliver a deep penetrating concrete colour dye that when used with interior polymer modified concrete overlays will create a permanent stain. HYDRA-STONE™ Dye Stain is also employed for use in colouring polished concrete floors, leaving behind beautiful vibrant colours that give a cold grey concrete floor an appearance of a warm and colourful work of modern day art.
So what is a concrete dye? A concrete dye is a colourant that is used along with a carrier to penetrate concrete surfaces. HYDRA-STONE™ Dye Stain is an exclusive concrete dye manufactured by Elite Crete Systems.
ULTRA-STONE™ Antiquing Stain is a concentrated stain that is used for colouring and highlighting polymer modified concrete overlays. Being a concentrated stain, ULTRA-STONE™ must first be diluted with water before use and then mixed with Elite Crete Systems concentrated synthetic colouring pigments.
Do not be fooled by manufacturers that lay claim to waterborne stains that provide a durable and everlasting solution to colouring a conventional concrete floor or surface. A waterborne stain that is durable enough to be used directly on concrete without a polymer modified overlay system simply does not yet exist. If a stain creates a film, it can be with relative ease scratched or peeled. Basically, in laymen's terms, a waterborne concrete stain used directly on concrete is nothing much more than a paint, and as we all have seen, painted concrete floors do not hold well to foot or vehicle traffic. Until the technology exist, Elite Crete Australia will never recommend the use of waterborne stains to be used directly on conventional concrete.
CHEM-STONE™ Reactive Stain is a permanent concrete stain that chemically reacts with concrete and polymer modified concrete overlays. Available in 8 standard colours. Each colour produces natural looking colour variations that are unique from one concrete floor or surface to the next.
Elite Crete Australia
34 Moreland St,
Footscray VIC 3011
www.EliteCreteAustralia.com.au