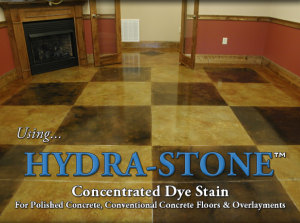 Concentrated Penetrating Concrete Dye
HYDRA-STONE™ concrete dyes are available in twenty distinct colours which can be further manipulated with HYDRA-STONE™ Reducer to create endless colouring possibilities.  It is recommended that this product be purchased from Elite Crete Australia as a dry powder pack and diluted on site with HYDRA-STONE™ Reducer for a slower/deeper penetration, or alternatively, with acetone for a quicker dry time.
HYDRA-STONE™ offers greatly improved abrasion resistance and wearability in comparison to paints, acrylic stains and typical waterborne colouring products that are coated on conventional concrete floors. Ordinarily what happens with an acrylic stain or a paint (often referred to or relabelled as a coloured concrete sealer) that has been installed on a concrete floor or surface, is that they quickly peel, flake, wear and delaminate in a relatively short period of time.  Because of the very fine sized particles of HYDRA-STONE™, the dye will penetrate into the substrate and not leave behind a film similar to a paint like coating.
The most common uses of HYDRA-STONE™ Dye Stain are on interior polymer modified concrete floors. Elite Crete Systems MICRO-FINISH™ is often coloured, accented and highlighted with HYDRA-STONE™.This product can also be used to help blend and perfect concrete that has been previously coloured with an acid stain, waterborne stain or integrally coloured and is often used as a straight out replacement to acid staining due to its ease of use that does not require the messy cleanups that can often be associated with acid stains after they have been neutralized.  Application is achieved with a pump up type sprayer, roller, HVLP gun, spray bottle, sponge, brush or a dye detailing pen.
The coverage rate for HYDRA-STONE™ on a smooth concrete floor is approximately 5.5 square meters per litre (diluted 1:1).  On a knockdown finish, coverage rate is approximately 4.5 square meters per litre (diluted 1:1).  Thin stamped concrete overlays typically will have coverage of 3.5 square meters per litre (diluted 3:1).
HYDRA-STONE™ can be left unsealed in the case of polished concrete flooring but is recommended to be sealed with Elite Crete Systems E100 series epoxies, SPARTIC-ALL™ polyaspartics or any of Elite Crete Systems high end, yet affordable aliphatic urethane sealers.
Elite Crete Systems products are available only to certified and professional tradesmen. If you would like to benefit from these professional grade systems and are a home or business owner, please contact a sales representative to be placed in touch with a trained and certified applicator in your area.
Elite Crete Australia
34 Moreland St,
Footscray VIC 3011
www.EliteCreteAustralia.com.au
The Industry Leading Manufacturer of Products and Systems for; Decorative Concrete Overlays, Stamped Concrete, Concrete Colouring, Concrete Repair, Industrial Epoxy Systems and Flooring Solutions.