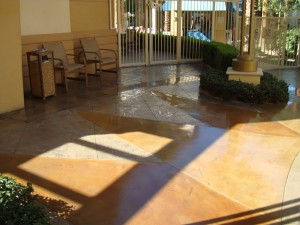 Clear Exterior Concrete Sealant
CSS EMULSION™ is a clear, single component, exterior concrete sealant that has been engineered and formulated with the highest quality ingredients. CSS Emulsion™ is designed to be diluted prior to use with a compatible solvent, making it the most versatile exterior concrete sealer on the market.
Not only is Elite Crete Systems CSS EMULSION™ the most versatile exterior concrete sealer, it is also possibly the most durable breathable exterior concrete protective coating available. The methyl methacrylate component of CSS EMULSION™ greatly improves scratch and abrasion resistance over other comparable acrylic concrete sealers.
The formulation of CSS EMULSION™ has not been heavily modified over the years like so many other concrete sealants have been. The fact that the preferred sealer of choice to thousands of professional applicators around the world is CSS EMULSION™ speaks volumes in itself.
The majority of exterior concrete sealers available in concrete supply chains and home hardware supply stores across Australia and New Zealand are of very low solid content with generally over 80% of the product being a solvent. By packaging CSS EMULSION™ as a concentrate rather then diluting and cutting down the product with a solvent, the end user is given greater control over the use of the product as the solid content can be adjusted on site and modified as necessary. For example, a dilution of one part compatible solvent to one part CSS EMULSION™ in three coats would be a heavy duty protective coating yielding excellent stain and chemical resistance in comparison to a dilution of 3 parts compatible solvent to one part CSS EMULSION™ with a single coat, which in that case could be used as a cure and seal on freshly poured or "green" concrete.
CSS EMULSION™ can be diluted with xylene, dimethyl carbonate (DMC), acetone, lacquer thinner and other compatible oxygenated or aromatic solvents.
Two other alternative versions of CSS EMULSION™ exist, one in a waterborne formulation known as WCS EMULSION™ and another as a lower VOC (volatile organic compound) formulation known as CSS-V EMULSION™. WCS EMULSION™ is a waterborne concrete sealant that exhibits similar results as CSS EMULSION™ but must be used as packaged in full strength form. Aesthetically WCS EMULSION™ has more of a matte finish than that of the higher gloss level of CSS EMULSION™. CSS-V EMULSION™ has a lower VOC content at just under 150 grams per litre and must also be used as packaged in full strength.
The typical coverage rate of CSS EMULSION™, WCS EMULSION™ and CSS-V EMULSION™ is from 8 square meters per litre on a smooth concrete surface all the way down to 3 square meters per litre on a rough splatter texture concrete surface.
All Elite Crete Systems products are available only to certified and professional applicators. If you require any technical specification or product information, please contact Elite Crete Australia for further assistance. Home or business owners looking for a high quality, durable and practical solution may contact an Elite Crete Systems sales representative to arrange for an on site inspection by an approved applicator.
Elite Crete Australia
34 Moreland St,
Footscray VIC 3011
Tel.# (03) 9689 4480
www.EliteCreteAustralia.com.au
The Industry Leading Manufacturer of Products and Systems for; Decorative Concrete Overlays, Stamped Concrete, Concrete Colouring, Concrete Repair, Industrial Epoxy Systems and Flooring Solutions.