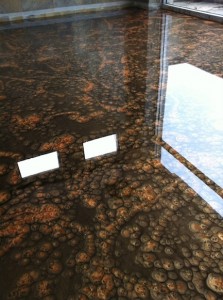 Epoxy resins are nothing new, in fact they have been around for over 70 years. Although epoxies have a long history, formulations have steadily developed and witnessed huge improvements in adhesion, permeability, chemical resistance, abrasion resistance, UV degradation, self levelling characteristics, transparency, etc.
What one company calls a clear epoxy resin and what another company consider to be a clear epoxy can be two entirely different products. It is very common to find epoxies that are marketed as a clear coating to be more of a milky white finish or have shades of green or yellow rather than being the clear epoxy that they claim to be. This is where it pays to read the Material Safety Data Sheet of the product. Of course looking over the MSDS will not give you the complete picture and even then you will not truly know what the cured product will exhibit, but it will give you a better understanding and a more complete and educated decision.
One trait that is common amongst epoxy manufactures is the addition of fillers that do not add or benefit the performance of the epoxy but rather, only serve as a filler so that they can make the claim of having a 100% solids epoxy coating.
Elite Crete Systems manufacture only premier grade high performance epoxy coatings. Our formulations have been refined and developed to the point where we are justifiable in making the claim that we have the highest performing and technologically advanced epoxy coatings that have been produced specifically for the industrial floor coating and decorative concrete industries. Seeing is believing, don't just take our word for it, ask an industry professional who has been in the field and experimented with a multitude of formulations and you will soon see why the preference of professional applicators is Elite Crete Systems.
Elite Crete Australia carries the following industrial grade crystal clear epoxy coatings:

- E100-PT1™ Crystal Clear Epoxy (fast set formulation available)
- E100-PT3™ Waterborne Clear Epoxy
- E100-UV1™ Clear Epoxy Coating
Don't just take our word for it, make an appoint and see the difference for yourself or have one of our professionally trained and approved applicators visit you on site. The difference is truly crystal clear.