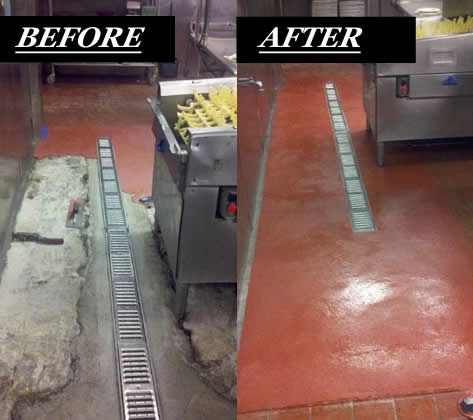 Elite Crete Systems MERCAP-445™ is a clear/amber, low viscosity, moisture insensitive, 100% solids, very high early strength speciality epoxy that is intended to be used to repair existing cracks in concrete, as an anchor bolt adhesive on horizontal applications and also as a general purpose, all weather epoxy bonding agent that can be used on both damp and dry concrete surfaces.
Notable properties and features of MERCAP-445™ include but are not limited to:
Gravity feed concrete crack filling and repair on horizontal and vertical finishes as while as masonry, wood, steel and other surfaces
With both components "A" and "B" mixed thoroughly together, MERCAP-445™ has a viscosity of 375 cps allowing for deep penetration of concrete surfaces
Bonds to both dry and damp concrete surfaces
Can be used as an epoxy mortar system when used with cleaned and dried silica sand
As an adhesive for dissimilar materials
As a structural anchor bolt adhesive on horizontal surfaces
Bond strength of 4 MPa in just 7 hours and a bond strength of 14.5 MPa in 7 days time
Compressive strength of 93 MPa (ASTM D-695)
Typical coverage rates of MERCAP-445™ are:
Width Of Crack X Depth Linear Meters Per litre
3.175 mm x 2.54 cm                                        12.42 meters
6.35 mm x 2.54 cm                                           6.21 meters
12.70 mm x 2.54 cm                                         3.10 meters
19.05 mm x 2.54 cm                                         2.07 meters
25.40 mm x 2.54 cm                                         1.56 meters
Application Method:
Prior to application of MERCAP-445™ the surface must be clean and sound. If treating concrete cracks, cracks must be "V" notched in order to create a receptacle to control MERCAP-445™.  Apply MERCAP-445™ into "V" notched receptacle and reapply as needed. After crack has been filled, apply cleaned and dried silica sand. Allow MERCAP-445™ to cure before mechanical grinding or applying a concrete overlay.
Elite Crete Australia
34 Moreland St,
Footscray VIC 3011
www.EliteCreteAustralia.com.au