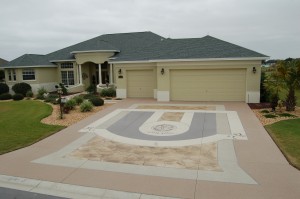 The selection in concrete driveway finishes is no longer limited to exposed aggregate, spray on paving and stenciled concrete. Elite Crete Australia has the most extensive and complete line of systems for decorative concrete driveways and overlays. It's no wonder why our products are the preferred system of the seasoned decorative concrete professional.
Concrete driveways often cost less than natural materials like flagstone, slate, brick, etc. and offer unlimited choices in colour and textures, unlike asphalt or pavers.
Elite Crete Australia has a concrete overlay system for any budget that can match the decor of any home or environment. No matter the texture, pattern or colour, we have a solution to make your concrete driveway a standout feature.
Stamped concrete driveways can take the texture and appearance of slate, sandstone, cobblestone, ceramic tile and even wood. These unique and enduring concrete finishes not only add real curb appeal and value to your home, they are also durable and can last the lifetime of the substrate.
Looking for a low budget way to clean up your old, stained and deteriorated concrete? A broom finish with Elite Crete System's THIN-FINISH™ will not only repair your damaged driveway, it is also an inexpensive way to rejuvenate your hardscape and bring new life and colour to your concrete driveway.
Tired of scrubbing and trying to pressure wash stains and contaminants from your driveway? No problem, Elite Crete System's CSS EMULSION™ leaves your concrete driveway almost maintenance free. Simply hose down your driveway and be done.
Elite Crete Australia
34 Moreland St,
Footscray VIC 3011
www.EliteCreteAustralia.com.au
The Industry Leading Manufacturer of Products and Systems for; Decorative Concrete Overlays, Stamped Concrete, Concrete Colouring, Concrete Repair, Industrial Epoxy Systems and Flooring Solutions.