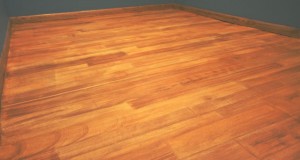 Faux Concrete Floors From Elite Crete Australia
Take a close look at this floor, it's quite deceiving and you could be forgiven if you thought that this was timber flooring.  This distinct faux wood floor was accomplished by Audra Lynch of "A Fine Surface"
Audra applied Elite Crete Systems THIN-FINISH™, a polymer modified cementitus concrete overlay.  This concrete overlay was meticulously crafted by hand to duplicate the contours and texture of authentic timber flooring with even enough detail to replicate circular sanding score marks.  Audra chose CHEM-STONE™ Reactive Stain (a concrete acid stain) for the colouring process.  By using an acid stain on our concrete overlay, Audra was able to recreate the authentic colours that you would see in timber flooring.  The sealer of choice on this particular faux concrete overlay is E100-PT3™ Clear Waterborne Epoxy.  PT3™ is not a heavy solvent based epoxy like that you would find at a local hardware or concrete supply chain.
A faux concrete wood overlay is not just limited to interior applications, in fact THIN-FINISH™ has been successfully installed on millions of square meters outdoors throughout the world.  Other techniques can be used to accomplish these and other similar concrete finishes and are not limited to hand carving and can be also be achieved with TEXTURE-PAVE™, a stampable concrete overlay system available exclusively from Elite Crete Australia.
When you place Elite Crete Systems products in the hands of an accomplished artist the possibilities are endless and recreating the texture and appearance of practically any surface or material is a reality.
If you're a fan of Audra's work you'll be pleased to know that she'll be partaking in this years World Of Concrete, Artistry In Decorative Concrete competition.
Elite Crete Australia
34 Moreland St,
Footscray VIC 3011
Tel.# 1300 886 945
www.EliteCreteAustralia.com.au