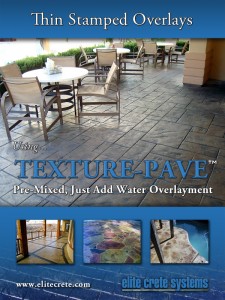 Elite Crete Systems TEXTURE-PAVE™ is a non hazardous cementitious concrete topping designed to create durable and decorative stamped impression (generally 3.2mm to 12.7mm) concrete finishes on existing concrete for both exterior and interior surfaces as well as being used for resurfacing and repairing pitted and damaged concrete. TEXTURE-PAVE™ is also commonly used for cast in place concrete benchtops and vertical hand carving applications.
TEXTURE-PAVE™ has been around for almost two decades and in that time has had it's durability and performance tested and proven. From Disney World to Dubai, TEXTURE-PAVE™ has restored and refinished existing concrete surfaces across the globe bringing a brand new look and appeal that can resemble anything from authentic field stones to natural timber floors.
Like THIN-FINISH™, TEXTURE-PAVE™ comes with the exact mix design in each and every bag. With the precise amount of Elite Crete Systems hybrid polymer blended with the correct amount of graded quartz aggregates mixed with a white cement, TEXTURE- PAVE™ removes almost all room for error leaving the addition of water on site as the only necessary additive.
One could consider TEXTURE-PAVE™ over engineered for the Australian climate when taking into consideration that TEXTURE-PAVE™ was intended and designed to withstand the large variations in the freeze and thaw climatic cycles that are experienced in Canada and the United States. TEXTURE-PAVE™ also has excellent weather, moisture and UV resistance as well as high levels of flexural and tensile strength with a cured compressive strength greater then 31 MPa permitting commercial traffic use without causing damage.
TEXTURE-PAVE™ is typically applied with a gauge rake but can also be applied by trowel. If a thickness greater then 12.7mm is desired, additional layers can be added. Coverage rate for TEXTURE-PAVE™ at a depth of 6.3mm (the most common depth of stamp impression concrete) is 2.4 square meters per bag.
The choice in stamp patterns are numerous. Elite Crete Systems THIN-PRINT™ Texture Skins are available in dozens of textures and designs. The most popular stamp skins are Roman Slate, Sandstone, Old Granite, European Fan, Old Cobblestone, Hardwood, Herringbone and Brick Basket Weave. Also available is CLEAN-PRINT™ Liquid Release agent for effortless stamping without any sticking.
Colouring TEXTURE-PAVE™ can be accomplished integrally with PORTION CONTROL COLORANT™ (PCC) or SYNTHETIC PRIMARY PIGMENT™ (SYPP) or topically coloured via CHEM-STONE™ acid stains, ULTRA-STONE™ waterborne stains or HYDRA-STONE™ concrete dyes.
As with all of Elite Crete Systems decorative finishes, the choice of sealers for TEXTURE-PAVE™ are plentiful and dependant on many variables. If assistance is required in choosing or specifying the correct sealer for a complete concrete resurfacing or concrete flooring system, please contact an Elite Crete Australia technical support representative.
Elite Crete Systems products are available to trained and professional applicators only. If you would like to arrange for an onsite quotation/consultation or would like to become an approved applicator please make contact with an Elite Crete Australia sales representative.
Elite Crete Australia
34 Moreland St,
Footscray VIC 3011
www.EliteCreteAustralia.com.au
The Industry Leading Manufacturer of Products and Systems for; Decorative Concrete Overlays, Stamped Concrete, Concrete Colouring, Concrete Repair, Industrial Epoxy Systems and Flooring Solutions.