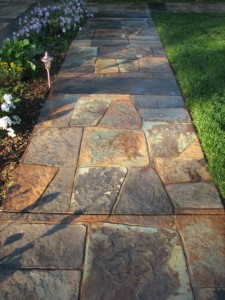 An Economical Alternative to Slate, Brick, Stone, Masonry and Pavers
Stamped concrete provides an economical alternative to slate, brick, stone, masonry and even wood finishes. Virtually any colour and decorative pattern can be created with Elite Crete Systems TEXTURE-PAVE™ overlay.
Elite Crete Systems thin stamped concrete overlay system is superior to any other concrete stamping overlay available today. With the use of our proven proprietary hybrid polymer mixture we can make claim to the only overlay system that both chemically and mechanically adheres to concrete surfaces. If the correct preparation is carried out on the substrate prior to installation of the pressed concrete overlay, re-emulsification and delamination of the decorative concrete overlay will not occur but will instead leave a permanent and everlasting impression.
Any manufacturer that recommends a moisture barrier or surface densifier prior to use of their stamped concrete overlay is essentially putting a bandaid on a system that will eventually fail due to re-emulsification and delamination caused by rising vapours. These moisture barriers that are commonly used as a solution to rising vapours do not stop the process but only slow down the eventual and unavoidable failure of the concrete stamping system.
1/4 inch (6.35mm) pressed concrete is the standard and most ideal depth for concrete overlays. Many manufactures and tradesmen try to get by with 1/8 inch (3.17mm) concrete stamping techniques, although you can achieve stamping as thin as 3.17mm and even thinner we do not recommend these applications as the authenticity of the impressed concrete overlay is compromised at shallower depths.
Accenting and colouring TEXTURE-PAVE™ for authentic colours is made easy with the use of ULTRA-STONE™ Antiquing Stain. CHEM-STONE™ reactive acid stain is a great alternative to colouring stamped concrete and can produce an uneven, semiopaque appearance that resembles natural stones or marble that will not fade and peel like an acrylic stain will.
One common complaint with stamped concrete is that it's slippery. This is generally due to the use of dry shake colour hardeners that are most often made from silica quartz. With the use of TEXTURE-PAVE™, slip resistance is no longer an issue with stamped concrete.
TEXTURE-PAVE™ can be used on both interior and exterior concrete flooring projects as well as vertical applications. TEXTURE-PAVE™ also frequently used in the process of building concrete furniture, concrete countertops, vertical concrete applications and in the repairing of heavily spalled and delaminated concrete.
Elite Crete Australia
34 Moreland St,
Footscray VIC 3011
Tel.# 1300 886 945
www.EliteCreteAustralia.com.au
The Industry Leading Manufacturer of Products and Systems for; Decorative Concrete Overlays, Stamped Concrete, Concrete Colouring, Concrete Repair, Industrial Epoxy Systems and Flooring Solutions.