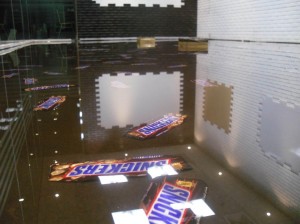 Elite Crete Australia carries a variety of self levelling epoxy floor coatings:
Our most popular self levelling epoxy formula is E100-PT1™ Crystal Clear Epoxy. This is a 100% true solids two part self levelling epoxy resin. Like all Elite Crete Systems products, this formula is of premium grade and considered by industry professionals as the highest quality. E100-PT1™ is often used as a top coat for polymer modified concrete overlays, CHEM-STONE™ acid stains, grind and seal, flake flooring applications and REFLECTOR Enhancer™ floors. With virtually zero odours or VOC's (volatile organic compounds), E100-PT1™ can be used internally without infringing and creating a hazardous work environment. Fast setting formula is also available.
E100-UV1™ is also a self levelling epoxy that is similar to E100-PT1™ in that they are both crystal clear coatings that are 100% solid with virtually no odours or VOC's. The most notable difference between these two epoxy formulations is the viscosity of E100- UV1™ is slightly higher than that of E100-PT1™. This higher viscosity formula makes E100-UV1™ the preferred epoxy resin for REFLECTOR Enhancer™ flooring applications. E100-UV1™ is commonly used for protecting new and old concrete, giving a perfectly smooth and seamless high gloss finish.
E100-PT4™ Pigmented Epoxy is a premium grade 100% solid self levelling coloured epoxy coating. E100-PT4™ has been coloured in house by our epoxy chemist and will not show pigment dispersion that is common in epoxy kits that are sold with a colour pack that is to be mixed on site. E100-PT4™ is most commonly used as a stand alone industrial or architectural floor coating, as a primer coat for REFLECTOR Enhancer™ floors and as a base colour for flake floor applications. Custom colours available upon request. Also available in fast setting formulation.
In the attached picture, you can see the true self levelling properties of Elite Crete Systems epoxy resin flooring systems. This particular floor was completed for the Mars Inc. corporate offices. The floor was first primed and then followed by a thick coat of E100-UV1™ clear epoxy. Snickers chocolate bar wrappers were then embedded into the epoxy coating and were then covered with additional coats of E100-UV1™ self levelling epoxy. The final finish is just one of thousands of spectacular self levelled epoxy floors completed with Elite Crete Systems.
If you are a home or business owner and would like to arrange for a trained and approved Elite Crete Systems applicator to visit you on site for a quotation please contact us.