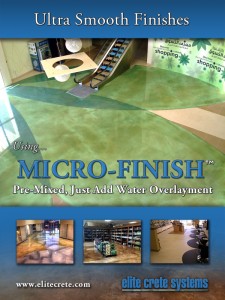 Elite Crete Systems MICRO-FINISH™ is a non hazardous, VOC free cementitous concrete micro topping that has been designed and engineered to give seamless concrete floor finishes that have the appearance of a tightly closed hard troweled or burnished concrete floor finishes.
MICRO-FINISH™ concrete micro topping was designed to be used on top of THIN- FINISH™ to create smooth, tightly hand troweled custom concrete floor finishes that are a unique one of a kind design that are also highly durable, economical, hygienic and low maintenance. MICRO-FINISH™ is also readily used for smoothing and repairing poorly finished GFRC bench tops and concrete furniture.
Incredibly easy to use, MICRO-FINISH™ concrete micro toppings only require the addition of water and do not call for a modifier or an activator to be mixed within prior to use. Like THIN-FINISH™ and TEXTURE-PAVE™, MICRO-FINISH™ has the exact mix design all already in the bag and ready for immediate use. Every bag of MICRO- FINISH™ contains the correct quantities of redispersible polymers, precisely graded quartz aggregates, silica flour and polymer cement ratios.
MICRO-FINISH™ comes as a white base making it easy to colour and accent. Numerous options are available for colouring MICRO-FINISH™ concrete floor toppings. Most commonly, integral colouring with PORTION CONTROL COLORANT™ (PCC) or SYNTHETIC PRIMARY PIGMENT™ (SYPP) is requested, which can either create a solid colour finish or additionally, if adding multiple coats of MICRO-FINISH™, a multicoloured striated finish can be accomplished. Acid staining with CHEM-STONE™ Reactive Stain is also a popular method of colouring MICRO-FINISH™, leaving behind the mottled and variegated almost kaleidoscopic effects that acid stains are known for. For bright, vibrant colours, HYDRA-STONE™ concrete dyes can be utilized as a stand alone colouring system or used in conjunction with acid stains or integral colour mixes. Although not commonly used, ULTRA-STONE™ can also be employed to give a speckled and blotched effect.
Coverage rate for one bag of MICRO-FINISH™ is typically in the range of 23 to 28 square meters. MICRO-FINISH™ is also commonly used mixed 1 to 1 with THIN- FINISH™ giving higher coverage rates.
There is a multitude of sealer choices for MICRO-FINISH™ micro toppings. For a durable, low maintenance finish, Elite Crete Systems E100 series epoxies can be used and can also be top coated with an aliphatic urethane for additional protection. All of the above systems are available in gloss, matte and satin finishes.
For any further assistance in architectural specification of Elite Crete Systems micro toppings or any other concrete floor topping or coating, please contact an Elite Crete Australia technical support representative.
Elite Crete Systems products are available only to certified and professional installers. If you would like to become a certified installer or if you wish to have a one of these durable and decorative concrete floor finishes installed at your business or residence, please contact an Elite Crete Australia sales representative.
Elite Crete Australia
34 Moreland St,
Footscray VIC 3011
www.EliteCreteAustralia.com.au
The Industry Leading Manufacturer of Products and Systems for; Decorative Concrete Overlays, Stamped Concrete, Concrete Colouring, Concrete Repair, Industrial Epoxy Systems and Flooring Solutions.