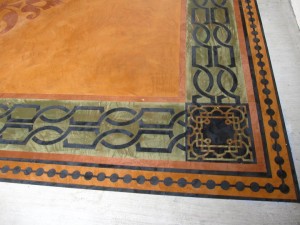 Elaborate Custom Concrete Stencil Designs From Elite Crete Australia
Elite Crete Australia can offer you detailed concrete stencils and modellos with various designs, patterns and themes. Choose from complicated concrete border designs, motifs, tiles or maybe even a stencilled concrete carpet. We have a multitude of patterns and designs to select from when it comes to modellos and concrete stencil.
You can either email us with your own custom design file or you can choose from our library a design or theme to your own liking. After the design has been uploaded on our computer, we print and cut the pattern on an adhesive backed vinyl sheet and then arrange to have a trained Elite Crete Systems applicator install the design on your floor.
Our stencilled concrete modellos work impressively well with CHEM-STONE™ Reactive Acid Stain and HYDRA-STONE™ Dye Stain. Acid stains inherently offer a rustic aged appearance that when combined with stencilled concrete modellos, offer old world beauty with modern day durability.
Modello patterns can often be found on polished concrete floors, adding character and colour and breaking up an otherwise featureless concrete floor. Another popular medium for a modello concrete stencil are THIN-FINISH™ concrete overlay and MICRO-FINSH™ micro toppings.
Common uses of concrete stencils and modellos are:
Room borders
Intricate tile designs
Concrete carpet patterns
Accents and corner pieces
Custom logos and emblems
Ideally modellos and stencil for concrete will have an adhesive back which will ensure that the there is no lifting, allowing colour bleed, runs and otherwise slopping looking workmanship.
Contact Elite Crete Australia for more information on designs, sizes, patterns, themes, styles and colouring options of our concrete stencils.