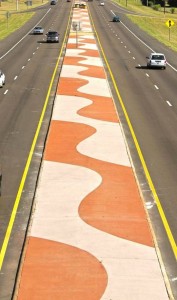 THIN-FINISH™ Concrete Overlay
Over 10,000 square meters of concrete was resurfaced and repaired with Elite Crete Systems THIN-FINISH™ concrete overlay late last year. The aim of this project was to repair and regrade deteriorated concrete along a highway medium and give some character and life to an otherwise plain and boring concrete highway dividing strip.
One of the major obstacles that this crew faced was designing a "S" pattern that would stretch almost 13 kilometres in length. The technique that this crew employed was to use a piece of PVC piping that would trace out the computer generated design. After the design was traced the opposing area was masked off and a coating of integrally coloured (The Portion Control Colorant™ colours used were Sangria and Brick) THIN-FINISH™ was squeegeed down and followed with a spray texture of THIN-FINISH™. This project was then sealed with Elite Crete Systems CSS Emulsion™ clear concrete sealer to provide years of protection to this decorative concrete surface.
Elite Crete Australia has a wide selection of products for concrete repair, resurfacing and rejuvenating damaged and deteriorated concrete surfaces. Whether you require a small concrete repair or concrete resurfacing for your driveway, concrete footpath, etc. or even a major concrete resurfacing project carried out like the one mentioned in this article, Elite Crete Australia can provide you with an economical and proven solution for restoring and glorifying even the most unsightly concrete surfaces.
Elite Crete Australia
34 Moreland St,
Footscray VIC 3011
Tel.# 1300 886 945
www.EliteCreteAustralia.com.au