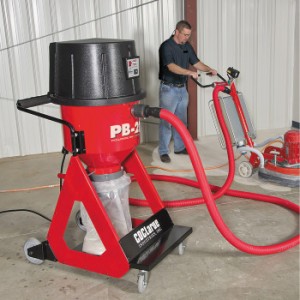 Pulsating Industrial & Concrete Vacuum Systems
Elite Crete Australia carries only the finest tools and equipment in the industry. When it comes to removing fine concrete dust, it's hard to look past CDC Larue's Pulse Bac concrete vacuum and dust collection equipment.
Pulse Bac's concrete vacuum systems can handle the dirtiest and dustiest conditions without ever clogging their filters.
What makes these concrete vacuums unique is their innovative vacuum filtration design. What CDC Larue vacuums do few other concrete vacuums can do; prohibit filters from blocking with dust particles throughout operation. CDCLarue patented Pulse-Bac Technology internally expels filters clean of concrete dust and particles using only vacuum and ambient air. No compressors, blowers, shakers or push buttons, all you have to do is plug it in and let let it run; instantly the Pulse-Bac will do the rest of the work for you.
Elite Crete Australia can provide you with the following CDC Larue Pulse Bac industrial vacuums:
PB-500 Series – Compact and powerful. The PB-500 series vacuum is often used for worksite cleaning, but was designed to capture, contain and control dust and remains generated by handheld tools and equipment for removing, grinding and scoring concrete.
PB-1000 Series – Industrial Floor vacuum built for larger construction sites. Three models in 1000 series are available, with each model offering increased CFM and lift.
PB-2000 Series – Industrial vacuum system designed for large construction and industrial work sites. Available in three models.
PB-1000 and PB-2000 series vacuums are available with two tank options and also a third bagger setup. All vacuums are available with a HEPA filter.
Make your working environment a safe and clean atmosphere with a CDC Larue Pulse Bac concrete vacuum system.
Elite Crete Australia
34 Moreland St,
Footscray VIC 3011
Tel.# 1300 886 945
www.EliteCreteAustralia.com.au