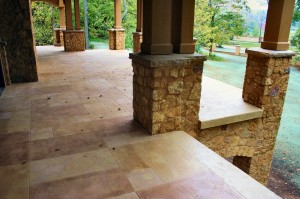 Start your business with the proven leader of Decorative Concrete and Concrete Resurfacing
The decorative concrete and industrial flooring industries are among the fastest developing sectors of the building and construction trades.  Even as the economy has slowed down, the concrete resurfacing industry has seen huge growth and continued demand.
While much of the past growth of our economy was created by the development of commercial and residential building, a demographic shift has been trending towards renovating existing homes, properties and commercial buildings.
In view of the fact that many home owners and property developers are closely monitoring how and where they invest their dollars and are frequently deciding on investing in current property remodelling, upkeep and restorations, the demand for concrete coatings, custom concrete flooring and concrete resurfacing has grown exponentially.  As this demand has increased, we have seen a large increase in the requirement of industry specific trained contractors, that not only have the skill and knowledge for these specifications, but also a product line that is engineered and precisely formulated for these exact applications.
Decorative concrete resurfacing is in large demand because of its high value for its reasonable economical cost and benefit.  It's not uncommon to see a job that is sold for $4000 add 10's of thousands of dollars of value to a home or property.  A major outstanding benefit of decorative concrete and concrete resurfacing is its curb and aesthetic appeal with its competitive price tag.
Business Opportunities Await You Everywhere
Take a good look around you, you don't have to wonder too far to find a concrete surfaces that is in need of repairs or an upgraded and aesthetically pleasing finish.  Concrete is around us everywhere and therefore a prospective client, unaware of the potential of their old or new concrete surface is right around the corner or even next door.  Concrete resurfacing is not limited to pool decks, driveways, patios, sidewalks and parking lots, but also is one of the fastest growing interior flooring trends.  Home and business owners are much more commonly tearing out carpets, vinyl floors, tiles and old timber flooring for a fresh concrete floor that has its own individual finish that can be totally unique, custom, seamless, low maintenance and highly cost effective when viewed in comparison to other floor covering alternatives.
Although these concrete resurfacing and concrete flooring systems are economical for the home owner, they are also highly profitable for the business owner and contractor installing these durable systems.  The time it takes to complete a seamless concrete floor is remarkably less than doing so with timber and tile alternatives.  Starting and finishing a job in the period of a few days is the norm and even having a few jobs to attend to on a single day is a possibility.  The cost of Elite Crete Systems products are low but the value of the installed and finished product is high, making this a favourable trade and industry for profit minded home business owners or to those looking to add additional services to an already established business.
Elite Crete Australia can teach you how to install and utilise the most extensive and complete line of decorative concrete and industrial flooring systems in the world.  Our products and systems have been proven throughout the world and are comprehensively and exhaustingly tested before ever being placed in the hands of our trained contractors.  Unlike many others in the industry, Elite Crete Systems do not use the end user or applicator as their guinea pigs while they try to develop a system that works and is of genuine quality.
A Small Business Startup is not easy.  Why bury yourself in a small business loan?
For a very minimal amount of capital (often recouped on your first paid job), you can start your own business of concrete resurfacing and coatings and become an approved applicator of Elite Crete Systems.
How many business startups or franchises can lay claim to the possibility of a return on investment on the very first week or even a month? The fact is, very few can stake this claim and the reality is most of these small business startups or so called franchises are the ones that are reaping the rewards as the franchisees struggle to keep up with initial startup investments and franchise royalty fees.
Elite Crete Australia does not sell a franchise and does not ask for royalty fees.  What we do do is provide you with training and advice on the use of our proven systems and product line.  We do not sell our products direct to the public or cater to the DIY market, instead we sell only to those that have proven to have the product knowledge and training to successfully install our time tested systems. We also have on hand an extensive amount of proven resources and tools to help you successfully market your own business without paying exuberant franchise business fees.
Contact an Elite Crete Australia sales representative to discuss the possibilities of establishing and starting your business in this relatively untapped and growing market. Home business ideas that are as highly profitable as the decorative concrete and custom seamless flooring industry are few and far between.