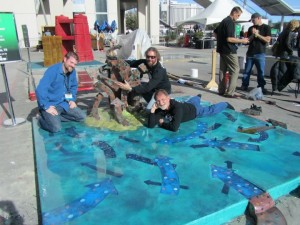 Rick Lobdell, Ryan Samford and Mike Samford created a three dimensional decorative concrete demonstration at the World of Concrete's Artistry in Decorative Concrete exhibition this year in Las Vegas, Nevada.
By utilizing basic colour theory, this trio of concrete artists were able to contort visual perception and create a three dimensional island enclosed by water.
The concrete artistry began at the time of the pour with hand cut styrofoam arrows being placed in the freshly poured concrete, which were then removed after the concrete began to setup. Next was a base coat of THIN-FINISH™ concrete overlay coloured with SYPP™ Green on the fresh concrete slab. From here the trio coloured arrows that were formed with styrofoam to lend a physical visual cue. Each arrow was coated with THIN-FINISH™ and then coloured with interacting colours that were created with ULTRA-STONE™, Synthetic Primary Pigment™ and Portion Control Colorant™. By placing dots of pink and red next to blue and green and blues with greens and so forth, the colours opposed each other creating a visually separating effect. After the completion of the island and the placement of the arrows, E100-UV1™ epoxy sealed the the water surface and filled in the indented arrow imprints. By using shades of blues and greens, the team was able to add multiple layers and levels to the water, further enhancing the 3D results.
After this concrete display was completed 3D glasses were available and handed out to the attendants who all seemed to find themselves tilting their heads and standing in a ocean of epoxy water.
The Elite Crete Systems products used to create this concrete artistry demonstration were:
THIN-FINISH™ Concrete Overlay
ULTRA-STONE™ Waterborne Stain
Synthetic Primary Pigment™
Portion Control Colorant™
E100-UV1™ High Viscosity 100% True Solids Epoxy