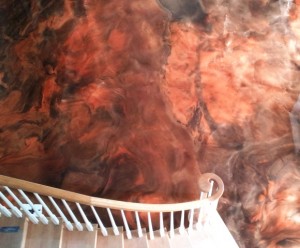 The Hottest Trend in Architectural Flooring & Epoxy Colouring
Absolutely the hottest trend in architectural flooring is the REFLECTOR Enhancer™ coloured epoxy seamless flooring applications from Elite Crete Australia. These dazzling and vividly coloured epoxy floors are not only durable enough for residential and retail applications but are also chemically engineered to withstand the harshest industrial flooring situations.
After releasing these floors a few years ago we have seen a huge demand and continued exponential growth from interior designers, architects, home and business owners alike.
Words that are commonly used to describe these designer floors are: durable, low maintenance (being a seamless floor there is no grout or seams to trap dust, dirt and grime), unique, vibrant, three dimensional and magnificent. A standard first impression when seeing these floors is that they're expensive. This is not the case, these floors are very economical and are less costly then tile, polished concrete, timber flooring and just about any other floor covering.
Implementation of REFLECTOR Enhancer™ is not limited to colouring epoxy but also used integrally with our polyaspartic coatings, interior and exterior concrete sealers. Elite Crete Australia carries all twenty colours of REFLECTOR Enhancer™ as well as an extensive range of premixed epoxy colours in our E100-PT4™ Pigmented Epoxy line (also available in a fast set formula).
No two floors will ever be the same. Like marble or granite flooring, REFLECTOR Enhancer™ floors are never identical and have their own unrepeatable, singular character and identity.
If you would like to get onboard the hottest trend in architectural flooring, contact us and we will put you in touch with an Elite Crete Systems certified installer in your area.
Elite Crete Australia
34 Moreland St,
Footscray VIC 3011
Tel.# 1300 886 945
www.EliteCreteAustralia.com.au