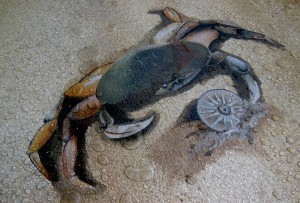 Conway Fish Trading in collaboration with Elite Crete Australia and decorative concrete artist Audra Lynch Nanay created an ocean side concrete mural on a deteriorated Footscray footpath outside of Melbourne's favourite fish market.
The theme of the concrete mural is a birds eye view of a high traffic ocean scene that progresses its way from deep waters into a sandy, stoney beach leading the way to the entrance of the fish market. School's of fish can be seen swimming in and around shallow reefs while larger predators are seen lurking below in the deeper waters. On the beach side of the mural, star fish and crabs can be found deposited in the wet sand while Conway's has been sketched in the deeper and drier end of the sandy beach.
Working on a high traffic concrete sidewalk in front of the Melbourne's most bustling fish market was no easy task. The concrete overlay system, THIN-FINISH™, had to first meet the approval of the Maribyrnong City Council engineers before work could be commenced. Once the approval was granted Melbourne's wet winter weather became the next obstacle. Working around weather often meant working in the middle of the night or even being caught in a flash shower or two while watching hard work and concrete stains wash steadily away. Pedestrians were also an obstacle and had to be directed like cattle through roped off working areas while still allowing them access to the front entrance of the fish market.
After the preparation of the sidewalk substrate was completed, THIN-FINISH™, a polymer modified concrete overlay system was applied in two coats. The following night staining and colouring commenced. Colouring was achieved with Elite Crete Systems CHEM-STONE™, an acid stain and ULTRA-STONE™, a waterborne concrete stain that was designed to be used with PORTION CONTROL COLORANT™ (PCC) and SYNTHETIC PRIMARY PIGMENTTM (SYPP). The first level or layer of colouring the under water scene was with CHEM-STONE™ Antique Blue and Antique Green diluted with water at various ratios and applied by pump up sprayers and sponges. Following the acid staining the next two layers of staining were achieved with ULTRA-STONE™ in various shades and hues of blues and greens that were again applied by pump up sprayers, sponges and chip brushes. The sea creatures and coral reefs were also incarnated at this time and were brought to life with ULTRA-STONE™. In the shallow waters, light refraction was devised with REFLECTOR Enhancer™ Charcoal Pearl mixed in undiluted ULTRA-STONE™. After all the staining and hand drawing was completed the decorative concrete mural was sealed in the legendary CSS EMULSION™ in two generous coats.
All in all the project took a week to complete. The end result is a colourful underwater and beach side concrete mural that was completed from start to finish all with Elite Crete Systems products. Although these products have been engineered to withstand heavy traffic, ultra violet rays and years of abuse, they are still an aesthetically pleasing and decorative finish that will surly catch the eyes of passersby all while improving the quality and livelihood of Footscray's concrete footpaths.
Elite Crete Systems manufacturers the most extensive line of quality decorative concrete and industrial floor coatings on the market today. Products are available only to certified and professional applicators. If you to would like a concrete artistry feature in your home or place of business, please contact an Elite Crete Australia sales representative to arrange for an on site quotation and conciliation.
Elite Crete Australia
34 Moreland St,
Footscray VIC 3011
Tel.# 1300 886 945
www.EliteCreteAustralia.com.au
The Industry Leading Manufacturer of Products and Systems for; Decorative Concrete Overlays, Stamped Concrete, Concrete Colouring, Concrete Repair, Industrial Epoxy Systems and Flooring Solutions.